New Country Competizione Stacks WINS AT SEASON OPENER
Austin, Texas – March 19, 2019 – The Conquest New Country Competizione team had a victorious start to the 2019 Ferrari Challenge competition in North America with four wins and two additional podium finishes.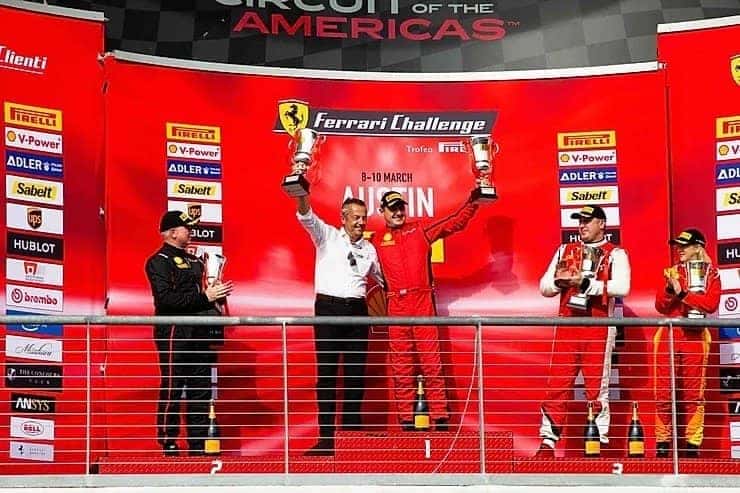 The Conquest New Country Competizione team enjoyed a successful weekend at Circuit of The America's entering a total of eight cars that included: Ross Chouest #25 Westport / CPort, Dave Musial #30 Four Seasons Heat and AC, Todd Morici #72 Morici Motorsports, Mark Davies #108, Danny Baker #121 EM Logistics, Brian Davis #128, Bill Kemp #228 Kemp Homes, and David Musial Jr #230 in the Club Challenge Category.
Danny Baker, Brian Davis, and Mark Davies qualified respectively 3rd in the Copa Shell category and 7th and 14th in the Copa Shell AM category for Race 1 on a wet drying race track.
Baker took an excellent start and moved into first place at Turn 1. He then controlled his lead during the entire race and went on to win with a seven-second margin at the finish line. The win marked Danny's first in the Ferrari Challenge series.
Brian Davis, who started 7th in the CS AM and 14th overall did an incredible job passing all his competitors to win in the CS AM and finishing 5th overall. Mark Davies started his first race ever and enjoyed a clean run, ending up 12th in the CS AM and developing crucial experience.
Race 2 saw Baker starting from Pole position while Davis started from 2nd and Davies from 10th. A good start from Baker led him to dominate the competition once again and finish with a four-second lead. Davis won as well in the CS AM and finished third overall with Davies finished 12th after some fierce battles on a track that is difficult to pass on.
In the Pirelli PRO and AM categories, 2018 Pirelli AM Champion Ross Chouest qualified 7th on a dry track using mandatory wet tires in the Pirelli Pro category while Todd Morici and Dave Musial qualified respectively 4th and 5th in the Pirelli AM. Chouest finished the race at the same position of 7th, Morici finished 4th after fighting hard for a podium finish, and Musial ended up 7th after a spin.
Chouest started Race 2 in P7 again and finished 9th after a tie rod suspension broke with three laps to go, Morici qualified 3rd and amazingly finished in 2nd, and Musial finishing on the podium as well.
Bill Kemp and Dave Musial Jr lapped in the Ferrari Club Challenges accumulating ample seat time in preparation for future races.
The next round of the Ferrari Challenge competition in North America will run in Sebring, Florida from April 5th to the 7th. For more information visit  https://www.ferrari.com/en-EN/corse-clienti/north-america
Danny Baker – Driver
"This weekend was lots of fun. I am very grateful for my wife Laura and our daughters Monroe and Harlow being there to support me. Also grateful for the World Class Team of New Country Competizione and Conquest Racing. Finally, I am grateful and excited for the other drivers on the Team. We took home a lot of hardware this weekend!"
Mark Davies – Driver
"I was thrilled at the age of 50 to complete my first two races ever. Prior to last weekend I had never even raced a go kart! Thank you to Eric and the whole team, as well as my amazing coach Guy Cosmo for a great weekend. Congrats to my teammates and their victories!"
Eric Bachelart – Team Manager
"We had a fantastic race weekend with four wins and two podium finishes. Good to see Danny on top of his game and adapting extremely well to his new 488 Challenge car. Brian was equally impressive, and we could not have hoped of a better start for him. Mark did a good job all weekend long, gaining experience and developing his race craft. On the Pirelli category, Ross did not perform where he belongs this weekend and I am convinced we'll bounce back together. Todd was impressive and it was good to see Dave on the podium again. Thanks to the whole team who did a flawless job all weekend."