NCC Scores Win, Pole Positions and Fastest Laps at Laguna Seca
Monterrey, California – May 15, 2018 – New Country Competizione had a very successful weekend at Laguna Seca after entering five cars with Peter Ludwig in the Datto – Strategic – Kemperle #11 car in the Pirelli Pro category, Ross Chouest in the Westport Yachts #25 car in the Pirelli AM category, Danny Baker in the EM Logistics #221 458, Bill Kemp with Kemp Signature Homes #228 458, and Brian Davis in the #282 458.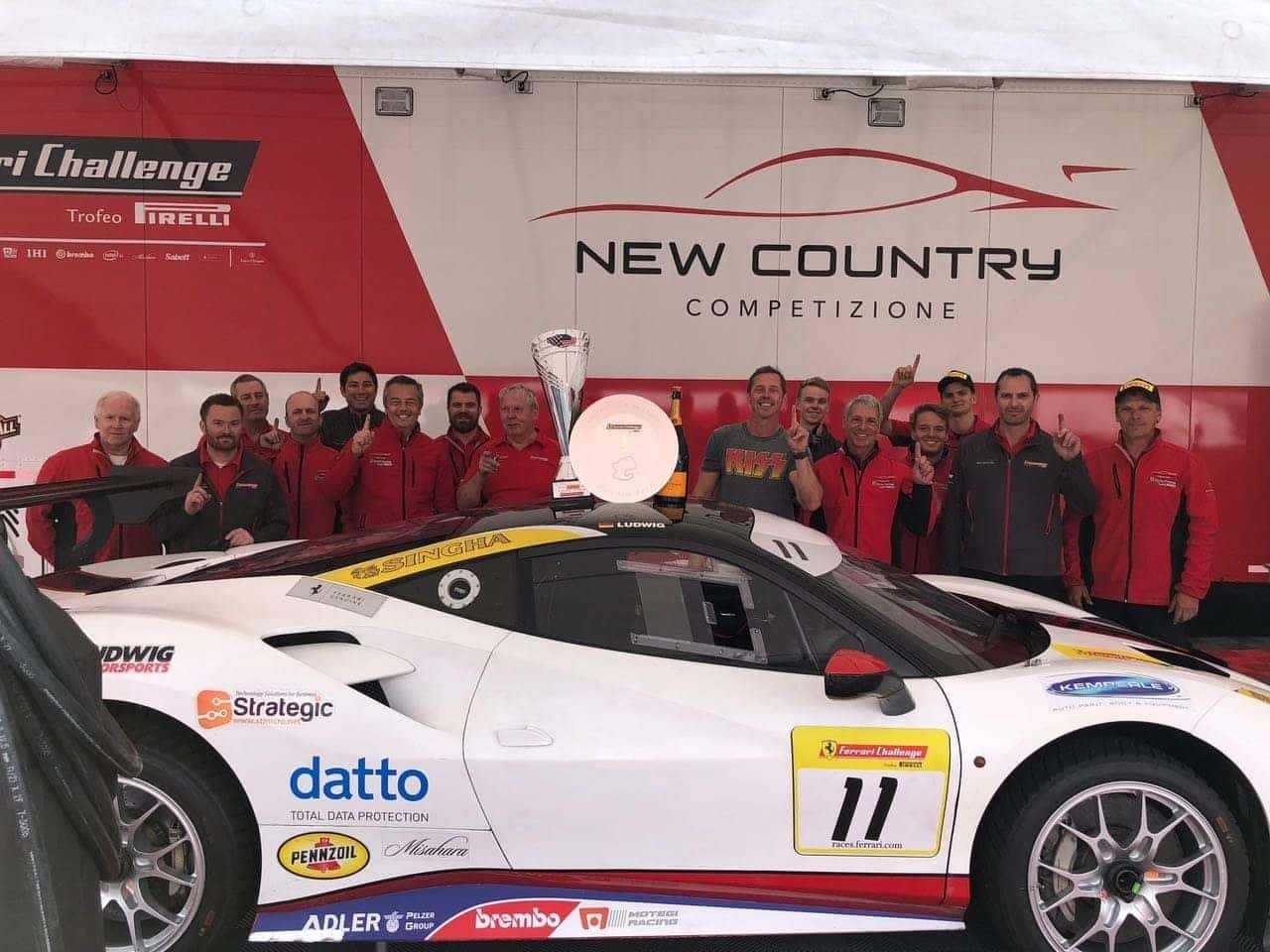 Day one saw different misfortunes amongst the drivers. Danny Baker and Bill Kemp qualified in the top 10 in the 458 class while first-time competitor, Brian Davis, started in an encouraging 13th place. Ross Chouest qualified 3rd and Peter Ludwig 2nd in the Pirelli Pro class but Ludwig had to start from the pit lane with a 10-second penalty following an incident during the previous race at Circuit of The Americas.
Race one brought top ten finishes for all NCC 458 drivers with Baker finishing in 7th, Brian Davis in 9th for his first ever race, and Kemp in 10th. Peter Ludwig came through the field having started from the pits, but could only finish 9th on a challenging track to pass his competitors. Despite finishing 9th, Ludwig scored the fastest lap in the race. Ross Chouest had a spin as his tires degraded, but brought home 7th.
Day two saw Chouest and Ludwig qualifying both in pole position respectively in the Pirelli Am and Pro categories. Chouest posted the fastest lap of the weekend from the entire field. The 458 drivers, Kemp and Davis kept improving under Bakers experienced guidance and they all qualified in the top 10 with Kemp in 8th, Baker in 9th and Davis in 10th.
Race two reaped the win of Peter Ludwig with the fastest lap, and Chouest just missing the podium after an off-track excursion in 4th. Kemp finished with a fantastic 5th for his second appearance in the series followed closely by Baker in 6th. Davis struggled with his tires but continued on to finish 13th in the 458 class.
Driver – Ross Chouest: "New Country Competizione did a fantastic job preparing my car and supporting me. I qualified relatively well (3rd and pole) and ran 2nd in most of race one and 1st most of race two. Unfortunately, I did a poor job of managing my tires and made a few costly mistakes so I did not get the finish I hoped for but I am looking forward to Montreal to redeem myself."
Driver – Danny Baker: "It was a decent weekend for me. There was a lot of traffic on the track during both qualifying runs and I ended up P7 on Saturday and 9th on Sunday. I'm looking forward to better results at Watkins Glenn in July."
Driver – Brian Davis: "It was a great team effort. I'm very grateful to Eric and the New Country Competizone Team on an outstanding job preparing for a great weekend of racing. In both races, our entire 458 team either qualified or finished in the top ten. Peter and Ross in the 488's both started on the pole in their classes on Sunday and Peter took home the win. Those results aren't by chance and I'm proud to be part of the New Country Competizone family."
Driver – Bill Kemp: "There was nothing easy about this weekend in Laguna and just about every driver on the team experienced some sort of obstacle or setback. Despite the uphill battle, the team advanced in points and narrowed the gap for 1st place thanks to Peter Ludwig's Sunday win. Congratulations to Brian Davis on his debut to Ferrari Challenge and successfully completing both races in the 458 class."
Team Manager – Eric Bachelart: "We had lots of fun in Laguna working with all our drivers. Peter and Ross were the fastest drivers in the Pirelli Pro and Am categories and I enjoyed watching the progress of our new 458 drivers Bill and Brian working so well with Danny. The team did a very good job all weekend long and it was certainly a very enjoyable weekend."