Montreal Grand Prix 2018
Montreal, Canada– June 12th, 2018 – New Country Competizione enjoyed another successful weekend in Montreal with four podiums in total between Ross Chouest aboard the #25 Westport Yachts 488 Ferrari participating in the Pirelli Am category and Peter Ludwig aboard the Datto / Strategic Micro Systems / Kemperle Pirelli Pro entry of the Ferrari Challenge Trofeo Pirelli series in North America.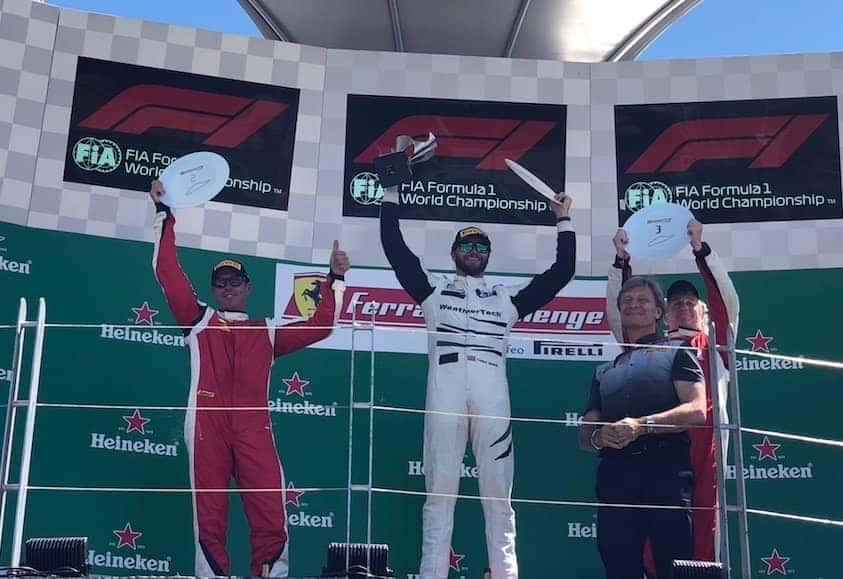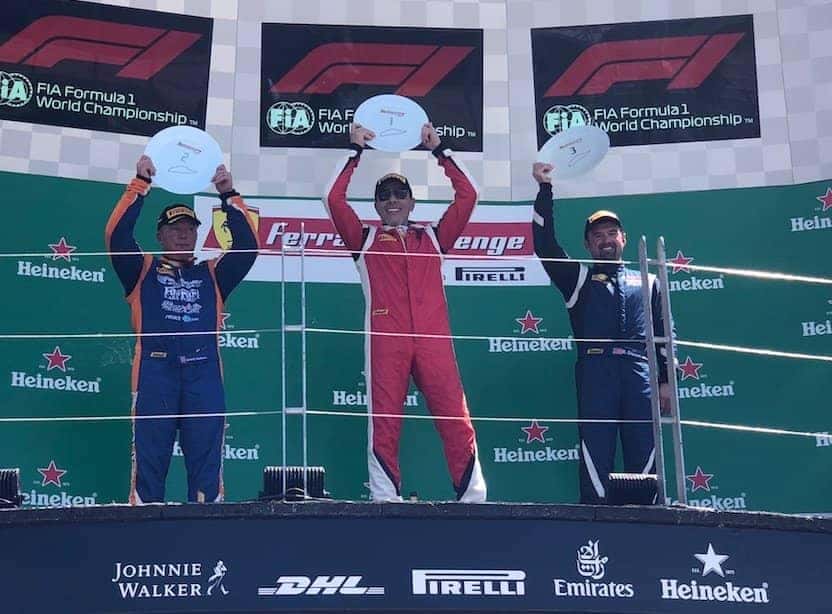 With the added fan base of the FIA Formula One World Championship watching, Ross Chouest embarked on the difficult twists and turns of Circuit Gilles Villeneuve on Friday with only two twenty-minute practice sessions. Improving all weekend long, he qualified 5th in class while Peter Ludwig qualified in 2nd, behind championship leader Cooper McNeil.
Chouest had a good start in race one and gained valuable positions. Unfortunately, Chouest could not avoid an accident that unraveled in front of him but managed to keep going and finish on the podium in 3rd. Ludwig had a trouble free race but could not quite match pace and move around the leader, which left him in 2nd place.
The grid for race two was determined by the results from race one. New Country Competizione fine-tuned the car setups in between races and both drivers were very competitive. Ludwig was in a position to pass the leader, McNeil but multiple accidents among the rest of the field and full course yellow prevented a real fight between the two competitors. Chouest continued finding speed throughout the 12 turns of Circuit Gilles Villeneuve and finished on the podium again in 3rd.
Peter Ludwig is still second in the Ferrari Challenge Trofeo Pirelli series in North America standings, trailing McNeil by only 17 points. Ross is coming back towards the front, now in 5th in the Pirelli AM category.
Peter Ludwig – Driver: "We closed out Montreal F1 weekend with another second place in race two. We figured out our car setup a bit late in the game this time. The adjustments made on the cars platform for race two were a great improvement but the lack of green flag laps didn't give us the time to challenge our competitors. Now, onward to Watkins Glen for rounds nine and ten July 27-29th. We'll come back stronger and definitely smarter."
Ross Chouest – Driver: "The team at New Country did a fantastic job preparing the car for me and it ran great all weekend. I had never raced at this track so I really enjoyed the challenge to learn a new track in limited practice time due to F1, especially a track with limited runoff and concrete walls everywhere. Overall, I am happy with the result considering the circumstances and looking forward to Watkins Glen."
Eric Bachelart – Team manager: "We enjoyed racing in Montreal in front of the F1 crowd. I am proud of our team and our drivers. Ross did an excellent job on a new track for him and he made good progress in the Championship. We struggled with Peter in qualifying and race 1 but we made some adjustments on his car for race two that put him in a position to fight for the win again. We'll get ready for a test in Watkins Glen to prepare for the race weekend."