Ferrari Challenge Road Atlanta
Wide World Ferrari and Ferrari of Palm Beach together with our racing team New Country Competizione would like to share the results of the Ferrari Challenge Road Atlanta last weekend!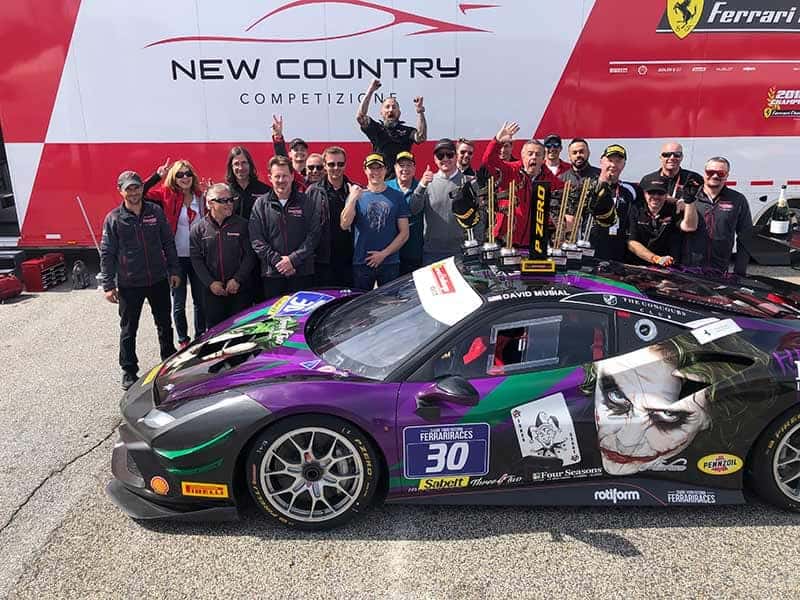 Over 100 cars including delights of F1 Clienti, XX Programmes, Club Competizioni GT and of course Ferrari Challenge took to the 2.54 mile circuit in celebration of the passion of racing with Ferrari.
Eric Bachelart, racing director for New Country Competizione, "I would like to congratulate all our drivers for their accomplishments last weekend in Rd Atlanta.
Jason for a perfect weekend with two wins and one pole plus two best laps in the race, David Musial for his win on Sunday, Brian Davis for his two second place podiums, Dave Musial 2.0 for his fastest lap in race 2, Anthony DeCarlo for his excellent debut in the Series and Mark Davies for setting competitive laps in race two.
We left Rd Atlanta with the points lead in the Coppa Shell Category with Jason McCarthy, we are also leading the Pirelli Am points with Dave Musial while Brian Davis is 3rd and we are also third in points with Dave 2.0 in the CS AM.
I am also very proud of all our team of technicians and engineers for a great job all weekend long.
Michael Mastrangelo, VP Ferrari Brands New Country Motor Car Group, states, "Round two of the 2020 Challenge series was held at Road Atlanta in Braselton Georgia this past weekend. It was a super exciting weekend for New Country Competizione. Despite a few weather related issues [it was super cold] that made it difficult for the slicks to get up to temperature. In spite of this, Jason McCarthy took pole in the first race of Coppa Shell and ran away with the race winning by over 20 seconds.
Brian Davis took second place in his first race in the Trofeo Pirelli AM category.
Sunday New Country Competizione success continued with Jason McCarthy this time starting in the third row fought his way to the top and won the race by over 17 seconds. In the afternoon event two of our drivers in battled each for top spot with Dave Musial just getting by Brian Davis to get the win and Brian ended up in second.
I wanted to give a shout out to Anthony DeCarlo our newest team member who ran his first two races while getting used to the powerful 488 Challenge EVO in difficult track temperature and finished them flawlessly.
I'm so proud of all our drivers and to all our tech support team and also to Eric Bachelart a fantastic job!
Follow us: