Conquest / New Country Competizione Achieve Another Successful Weekend in Sebring
Sebring, FL – April 11, 2019 – The Conquest / NCC Racing Team achieved another successful weekend in the 2019 Ferrari Challenge North America Championship at Sebring entering 6 cars for Ross Chouest ( #25 Pirelli Pro – Newport Yachts – Cport ), Dave Musial ( #30 Pirelli Pro Am – Four Seasons HVAC ), Todd Morici ( #72 Pirelli Pro Am Morici Motorsports ), Mark Davies ( #108 CS Am ), Danny Baker ( #121 CS EM Logistics) and Brian Davis ( #128 CS AM Tephseal – Kemperle).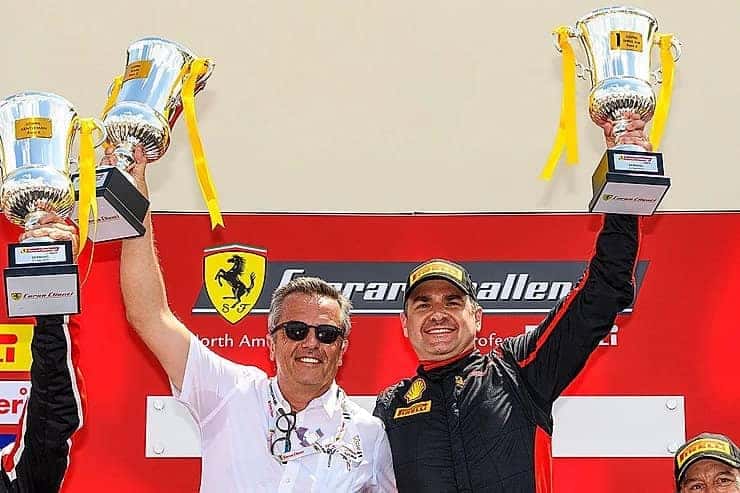 Qualifying one saw Davis and Baker qualifying on pole in their respective categories. Davies qualified 10th, Chouest in 8th after hitting some traffic, Morici 7th, and Musial in 6th. Race 1 was controlled from the start by Baker and Davis whom each took the win in Coppa Shell and Coppa Shell AM while Davies finished at the same position that he started – 10th place. Chouest managed to grab 5th with Morici right behind in 6th, and Musial following in 7th.
Sunday started well for Davis who qualified on pole for the second time of the weekend and Baker 2nd. Davies qualified an impressive 3rd for the second weekend of his short racing career. Musial qualified 7th in Pirelli AM, Morici 8th, and Chouest 9th in the Pirelli Pro after dropping a wheel off track and breaking his right rear suspension.
Race 2 brought another victory for Davis, who has been unbeaten so far this year. Davies finished in 5th, while Baker made a mistake after a problematic start and ended up 11th. In the Pirelli Pro race, Morici moved up to 5th after some impressive passing. Musial fought hard with his competitors but ended up spinning after making contact resulting in a 7th place finish. Unfortunately, Chouest had a driveshaft failure on the warm up lap, which was a lingering consequence of his off trackexcursion during qualifying.
The Conquest / NCC Team has now won seven races so far in the 2019 Ferrari Challenge North America Championship. Both Brian Davis and Danny Baker are leading the points in the Coppa Shell AM and Coppa Shell categories.
Dave Musial Jr was participating in the Club Challenge aboard his 458 Ferrari Challenge and kept on improving his lap times and experience in preparation of his 2020 race season. Conquest / NCC Team is now preparing for a test at Laguna Seca on April 23-24, before the third event of the 2019 Ferrari Challenge North America season in Laguna Seca on May 9-12, 2019.
Ross Chouest – Driver
"The New Country Competizione team did a great job in preparing my car for the race weekend. The weekend was really competitive and unfortunately, I had a mechanical problem and wasn't able to participate in race two. I look forward ahead to Laguna Seca."
Mark Davies – Driver
"I was delighted to finish two more races and was proud of my P3 qualifying in class on Sunday. I need to work on my race starts!"
Eric Bachelart – Team Manager
"It is hard to be totally happy when you enter so many cars as you'd like to see each driver finishing on the podium. However, we are leading two categories out of four, and at the same time, we can witness the progress of Mark and Todd. Dave and Ross have had some bad luck, but it's only a matter of time before they will be back where they belong. The Team did a great job all weekend, and we are just having lots of fun all together!"